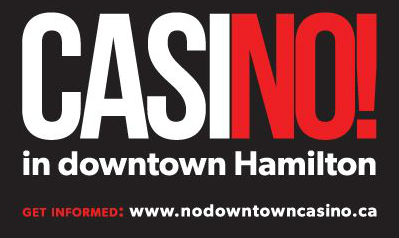 We're well into January 2013 and many of us are back into a regular routine after a busy December holiday season. We are thankful and appreciative to all our customers who chose to shop locally in search of something unique and creative. Not only was our store busy, but many of our neighbours on James North saw an increase in pedestrian traffic as more and more people rediscover our historic stretch of storefronts.
While Christmas was a top priority for many – the other big topic of conversation in the shop was whether or not we all should be worried that a Casino would locate in the downtown core. I was encouraged by the fact that everyone who we talked to felt the same way we did. That a casino in the downtown core will only harm the many positive developments that are taking place on James Street North and in downtown Hamilton.
I still can't believe we're entering our 8th year in business. To think, when we opened in 2005 most of our friends and family thought we were nuts to locate on James Street North. We heard it all. That the "downtown was dead", "no one shops downtown anymore" and "you'll be lucky to last one year". We're proud to say that along with our hardworking friends and neighbours, we helped to change what was once an unloved and forgotten neighbourhood into a lively and exciting destination. What continues to happen on James North goes against decades of the same-old downtown large-scale renewal thinking. One has to just look at Jackson Square, Copps Coliseum and the Hamilton Convention Centre to see that that the guarantees of a renewed core through mega projects will never achieve the vitality or economics as promised. The idea of James North wasn't brainstormed around a boardroom table or made possible by millions of dollars in civic grants and loans. The reason James North happened is that Hamiltonians wanted it to happen. Whether it is the thousands of people who frequent the monthly Art Crawl, the regular shoppers in search of a good coffee and unique finds or the Saturday night crowds enjoying live music at This Ain't Hollywood and The Brain. The James North that is being written about in national media is what makes Hamilton special and different. Clearly we are being seen as something other the "armpit of Canada" and that is something we can all be proud of.
For the first time in a long time, there is a buzz about the city that is loud and positive. A downtown casino does nothing to enhance that. It creates a blackhole of economic stagnation and creates short-term gains for the operators and long-term pains for the community that hosts it.
This will hurt Hamilton. As life-long Hamiltonians and passionate supporters of this city, we ask you to say NO to a Downtown Hamilton casino!