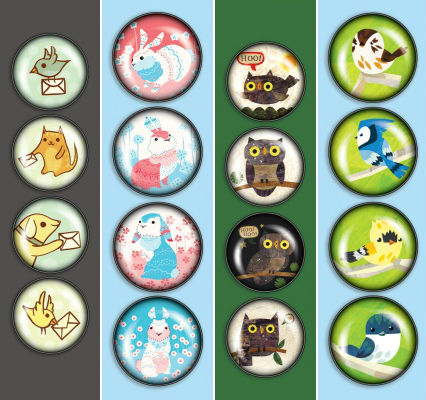 The countdown is on and while we should have had pretty much all our boxes by now – a nice little package surprised us today. Inside I was happy to find beautiful little magnets ($14.95 each) from iPop featuring a selection of fun designs including Hamilton's own illustration husband/wife superduo, Sorry You're Happy.
We always got asked about carrying cool magnets and only in the last few months have we've been able to find ones we liked and that we felt suited the shop. The other line we are carrying, Badge Bomb features some of the best indie illustrators and designers around. We still have a few packs of these super-strong magnets left ($11.95 each).
Another last-minute arrival is this gem from Chronicle Books. The Little Book of Lettering ($28.95 each) is chock full of amazing type design including some stellar work from another local artist and designer, Jamie Lawson.
While we're talking books – we still have a few of the ultra-cute board books from BabyLit. Jane Eyre, Alice in Wonderland and Dracula are in-stock ($10.95 each).
Other great gift ideas include: Quo Vadis Habana Journals, No Brow graphic novels and comics, Anthology Magazine, Stillman & Birn sketchbooks, Ecojot journals and cahiers, Stabilo Point 88 fineliners and Lamy Safari fountain pens.
More gifts ideas on Friday!